Diverse Bristol Christmas Meal at Brewer's Fayre
Add to Calendar
12/08/2023 06:00 PM
12/08/2023 10:00 PM
Europe/London
Diverse Bristol Christmas Meal at Brewer's Fayre
<p></p><embed alt="brewersfayre.jpg" embedtype="image" format="left" id="224"/><p></p><p>The fantastic Alfie will be doing the organising again and will be assisted by Ryan M. Alfie/Elfie will be dressed </p><p>as an Elf and has a list of member&#x27;s Xmas meal orders. </p><p>If you are delayed please text Alfie on 07905345591 with your name &amp; estimated arrival time.</p><p>If you have put in your order but have not pre-paid, you must please arrive at 5pm &amp; pay when you are able.</p><p>If you have pre-paid for your meal then please arrive between 5pm - 6pm.</p><p>Please remember or make a note of what you order, otherwise this can cause confusion on the day.</p><p></p><p>If you have not pre-ordered or pre-paid (deadline has passed for this) you can still come to the social but </p><p>we cannot guarantee that you&#x27;ll be able to sit with the group or have the Festive/Christmas menu choices. </p><p>You may need to arrive at 5pm and will need to order &amp; pay at the bar. </p><p></p><p>Here are the links to the festive menus: www.brewersfayre.co.uk/en-gb/christmas-festive-menu</p><p>Gluten Free Menu: www.brewersfayre.co.uk/en-gb/ngci-menu/brewers_fayre_ngci_priceless.pdf</p><p></p><p>If you are ordering off the main non-festive menu or just coming for drinks, you can arrive when you would </p><p>like, but please ask Alfie which tables are available so you can get a seat.</p><p></p><p>Main Menu: www.brewersfayre.co.uk/en-gb/main-menu/brewers_fayre_main_menu_priceless.pdf</p><p>This would be the time to let the staff/kitchen know of any allergies you may have.</p><p>Once tables are fully paid then food can be served to all, which may take up to an hour or more.</p><p>Drinks cost extra from the bar, but some are refillable (soft or hot drinks).</p><p></p><p><b>Information about the venue &amp; seating</b></p><p></p><p>Feel free to dress in Christmas themed clothes.</p><p></p><p>There will be no balloons, peanuts, party poppers or crackers this year. If you wish to bring your own crackers, </p><p>please ensure there are silent ones, no snaps/bangs or balloons inside. The loud noises will be too intense for </p><p>some of our members so please consider this.</p><p></p><p>This year we have divided the tables into coloured sections, which are on your table envelopes.</p><p></p><p>There is also a table decoration with coloured stars on the Diverse staff tables. Please direct your questions </p><p>to staff with the relevant coloured starred decoration, including any meal queries </p><p>(e.g. yellow &amp; brown section - ask Alfie, green section ask Marie).</p><p></p>
https://maps.app.goo.gl/25CQkViWB399L8Eg8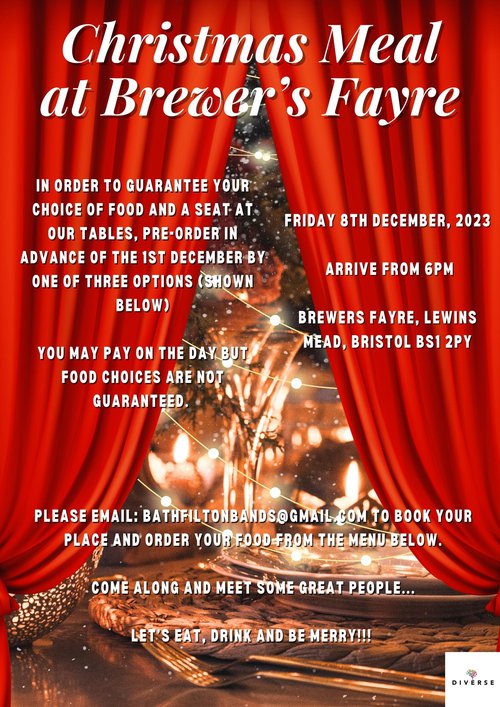 The fantastic Alfie will be doing the organising again and will be assisted by Ryan M. Alfie/Elfie will be dressed
as an Elf and has a list of member's Xmas meal orders.
If you are delayed please text Alfie on 07905345591 with your name & estimated arrival time.
If you have put in your order but have not pre-paid, you must please arrive at 5pm & pay when you are able.
If you have pre-paid for your meal then please arrive between 5pm - 6pm.
Please remember or make a note of what you order, otherwise this can cause confusion on the day.
If you have not pre-ordered or pre-paid (deadline has passed for this) you can still come to the social but
we cannot guarantee that you'll be able to sit with the group or have the Festive/Christmas menu choices.
You may need to arrive at 5pm and will need to order & pay at the bar.
Here are the links to the festive menus: www.brewersfayre.co.uk/en-gb/christmas-festive-menu
Gluten Free Menu: www.brewersfayre.co.uk/en-gb/ngci-menu/brewers_fayre_ngci_priceless.pdf
If you are ordering off the main non-festive menu or just coming for drinks, you can arrive when you would
like, but please ask Alfie which tables are available so you can get a seat.
Main Menu: www.brewersfayre.co.uk/en-gb/main-menu/brewers_fayre_main_menu_priceless.pdf
This would be the time to let the staff/kitchen know of any allergies you may have.
Once tables are fully paid then food can be served to all, which may take up to an hour or more.
Drinks cost extra from the bar, but some are refillable (soft or hot drinks).
Information about the venue & seating
Feel free to dress in Christmas themed clothes.
There will be no balloons, peanuts, party poppers or crackers this year. If you wish to bring your own crackers,
please ensure there are silent ones, no snaps/bangs or balloons inside. The loud noises will be too intense for
some of our members so please consider this.
This year we have divided the tables into coloured sections, which are on your table envelopes.
There is also a table decoration with coloured stars on the Diverse staff tables. Please direct your questions
to staff with the relevant coloured starred decoration, including any meal queries
(e.g. yellow & brown section - ask Alfie, green section ask Marie).