Picnic on the Downs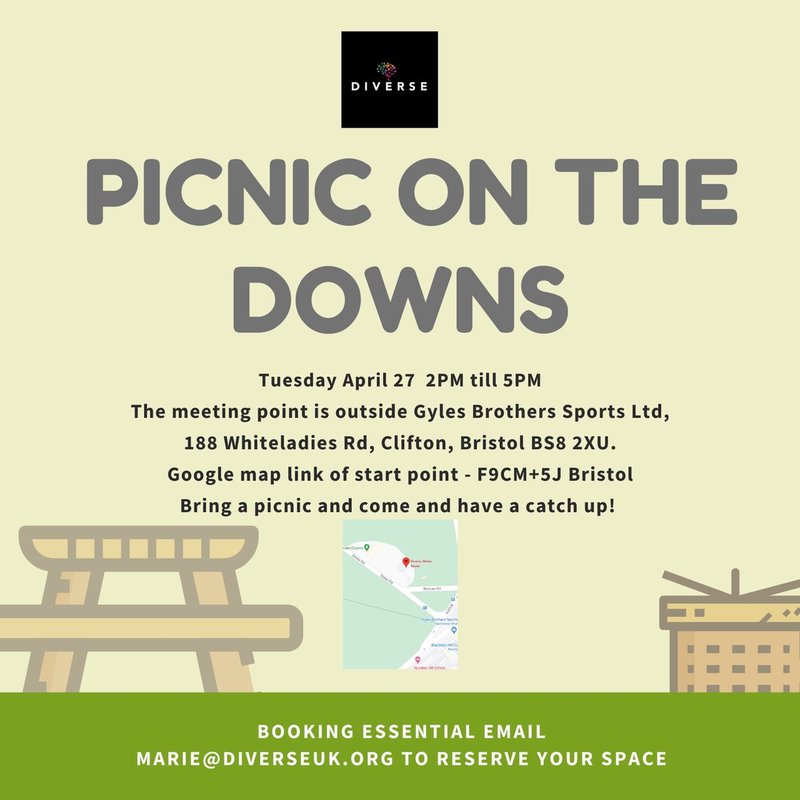 New Diverse Bristol Picnic Group.
We are trialing out a new outdoor group event.
Please be aware that covid-19 restrictions are still in place, and we will need to keep to minimum of 1meters distance apart at all times.
Start time: 2pm.
Finish time: 5pm.
The meeting point is outside Gyles Brothers Sports Ltd, 188 Whiteladies Rd, Clifton, Bristol BS8 2XU.
If you are running later than 2pm please call Marie the group leader on 07538152626, someone will come and collect you and take you to the picnic location.
We will aim to finish the picnic around 5pm.
This group event is weather dependent, if on the day it is raining then it will be postponed.
This event is wheelchair accessible.
Spaces are limited, so please email Marie@diverseuk.org to book your place.
Please also specify if you are bringing a PA along with you.
We may need to contact you on the day, so please provide us with a mobile phone number when booking.
Hand sanitizer and food will not be provided.
Things to consider:
. A blanket or a camping chair to sit on
. Hand sanitizer
. A well charged mobile phone
. Any medications needed
. A packed lunch/picnic or money to purchase something on route.
. Refreshments
. Sun block if needed
Google map link of start point - F9CM+5J Bristol
Many Thanks
The Diverse Team
Andrew, Harry & Marie