Diverse Bristol Cinema Social
Add to Calendar
10/16/2023 06:00 PM
10/16/2023 09:00 PM
Europe/London
Diverse Bristol Cinema Social
<h2><b>Diverse Bristol Cinema Social</b></h2><hr/><h3></h3><p>The group meets on the 3rd Monday of each month.</p><p></p><p>Location: Showcase Cinema de Lux, Cabot Circus, Glass House Ln, Broadmead, Bristol BS1 3B</p><p>Start time: 6:00 PM</p><p>End Time: 9:00 PM</p><p>Website: <a href="https://www.showcasecinemas.co.uk/showtimes/showcase-cinema-de-lux-bristol?utm_source=google&amp;utm_medium=organic&amp;utm_campaign=gmb-listing-bristol">Showcase Cinema de Lux</a></p><p>Contact: Ryan McGrath is the group leader .</p><p>Ryan will be wearing his Diverse UK T-Shirt so you'll be able to recognise him!</p><p><b>There is no need to book.</b></p><h4><b>INSIDER Membership</b></h4><p></p><p>Do take advantage of the Tuesday ticket discounts by applying for an Insider Card. Either order one from <a href="https://www.showcasecinemas.co.uk/events/insider">Showcase&#x27;s website</a> or from a staff member behind the counter. Registration is free.</p><p>If you&#x27;re a claimant of any of these benefits (DLA or PIP), apply for a <b>CEA card</b> for a huge discount</p><p>The CEA Card is a national card scheme developed for UK cinemas by the UK Cinema Association (UKCA).</p><p>The Card enables a disabled cinema guest to receive a complimentary ticket for someone to go with them when they visit a participating cinema.</p><p>For more information on CEA card visit: <a href="https://www.ceacard.co.uk/apply">https://www.ceacard.co.uk/apply</a></p><p></p><p>Also, take advantage of any discounts if you are currently a student.</p><h4></h4><embed alt="Bristofilmclub.jpeg" embedtype="image" format="fullwidth" id="221"/><p></p><p>The social starts at 6pm, however, depending on which film you decide to watch, you can arrive when you like.</p><p>We meet in the bar area to the right of the main entrance of the cinema. We will have a few drinks and food, until the movie adverts start.</p><p>Feel free to take in your own food and non alcoholic drinks in, if you are trying to save money. Make sure that the beverages are in plastic containers, such as a coke bottle. (Taking in your own alcohol isn&#x27;t allowed within the cinema group) .</p><p>Some of you may want to sit together during a film others may want to sit alone.</p><p>Some of you may also want to stay after your film and hang out in the bar area, or you may just want to go home, it is up to you.</p><p>The selection of films will be made available a week in advance in the discussion tab on the Facebook Event page.</p><hr/><p></p><p><b>Upcoming group dates for your diary</b></p><p></p><ul><li>Monday 16th October 2023</li><li>Monday 20th November 2023</li><li>Monday 18th December 2023</li></ul><p></p><hr/><h4></h4>
https://goo.gl/maps/qiyRCNLH38b7isdj7
Diverse Bristol Cinema Social
---
The group meets on the 3rd Monday of each month.
Location: Showcase Cinema de Lux, Cabot Circus, Glass House Ln, Broadmead, Bristol BS1 3B
Start time: 6:00 PM
End Time: 9:00 PM
Website: Showcase Cinema de Lux
Contact: Ryan McGrath is the group leader .
Ryan will be wearing his Diverse UK T-Shirt so you'll be able to recognise him!
There is no need to book.
INSIDER Membership
Do take advantage of the Tuesday ticket discounts by applying for an Insider Card. Either order one from Showcase's website or from a staff member behind the counter. Registration is free.
If you're a claimant of any of these benefits (DLA or PIP), apply for a CEA card for a huge discount
The CEA Card is a national card scheme developed for UK cinemas by the UK Cinema Association (UKCA).
The Card enables a disabled cinema guest to receive a complimentary ticket for someone to go with them when they visit a participating cinema.
For more information on CEA card visit: https://www.ceacard.co.uk/apply
Also, take advantage of any discounts if you are currently a student.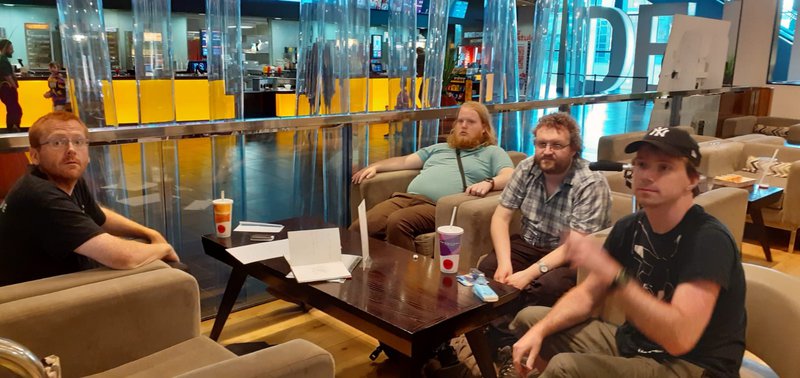 The social starts at 6pm, however, depending on which film you decide to watch, you can arrive when you like.
We meet in the bar area to the right of the main entrance of the cinema. We will have a few drinks and food, until the movie adverts start.
Feel free to take in your own food and non alcoholic drinks in, if you are trying to save money. Make sure that the beverages are in plastic containers, such as a coke bottle. (Taking in your own alcohol isn't allowed within the cinema group) .
Some of you may want to sit together during a film others may want to sit alone.
Some of you may also want to stay after your film and hang out in the bar area, or you may just want to go home, it is up to you.
The selection of films will be made available a week in advance in the discussion tab on the Facebook Event page.
---
Upcoming group dates for your diary
Monday 16th October 2023
Monday 20th November 2023
Monday 18th December 2023
---